| | |
| --- | --- |
| Biden | Trump |
| | |
| > 99.9% probability of winning | < 0.1% probability of winning |
| Mean of 361 electoral votes | Mean of 177 electoral votes |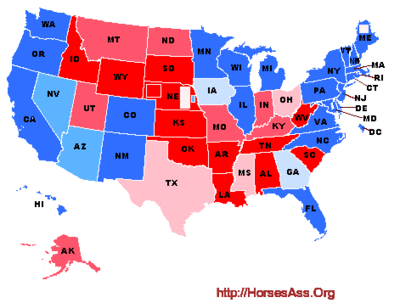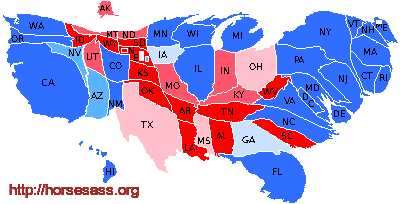 With just over two weeks to elect-a-slate-of-electors day, the race between former Vice President Joe Biden and President Donald Trump is really heating up! If by the phrase "really heating up", you mean the days are getting shorter, the weather is getting colder, and the polls continue to put Biden ahead of Trump with no signs of wavering.
My previous analysis showed Biden leading with a mean electoral vote count of 363 to Trump's 175, suggesting that Biden would win an election then with near certainty.
Since that analysis there have been about 135 new state head-to-head polls to weigh in on the contest. Today, after 100,000 simulated elections, Biden wins 100,000 times and Trump wins 0 times. Biden received (on average) 361 to Trump's 177 electoral votes. In an election held now, Biden would have a greater than 99.9% probability of winning and Trump would have a less than 0.1% probability of winning.
There hasn't been a whole lot of movement from the new polls. Trump has made small gains in a number of states since the previous analysis. In Alaska, the new polling lifts him from a 74% probability of winning an election held then to a 93% probability of winning an election held now. Arkansas moves from a 65% probability to 100% probability. In Louisiana, Trump moves from 87% to 100% probability of winning. Trump gains a bit in Missouri, going from 95% to 99%. In Ohio Trump surges from 56% to 82% probability. Trump has lost ground in Nebraska's 1st congressional district, where he moves from 63% to 59% probability of winning. Texas has decided to swing back toward Biden a bit as Trump moves from a 95% to an 89% chance of winning the state.
Biden also showed some gains and losses. Biden gains a bit in Georgia, moving from a 68% to an 82% probability of taking the state. And in Virginia, Biden goes from an 85% to a 100% chance of taking the state. Biden slips a bit in Iowa, going from a 67% to a 64% chance of winning the state. Finally Maine's 2nd congressional district has "flipped", going from a Biden lead with an 81% probability of him winning to an 58% probability of Trump winning. Maine's first congressional district and the state itself remain in the Biden column.
The long term trends in this race can be seen from a series of elections simulated every seven days using polls from 21 Oct 2019 to 21 Oct 2020, and including polls from the preceding month (FAQ).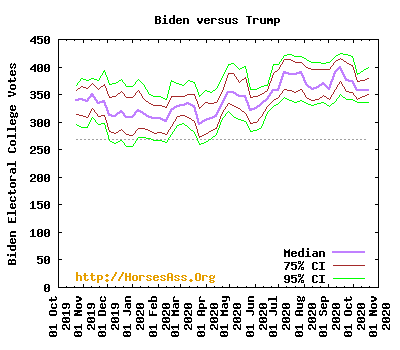 Biden's lead has held solidly since about July.
Getting back to the current week, here is the distribution of electoral votes [FAQ] from the simulations of elections held today: